USE FOR:
- Concerts
- Sub-floor for basketball courts
- Graduations and school assemblies
- On-Rink Events and Parties
- On-Rink Exhibitions, Shows and Public events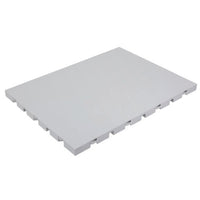 EverBase 3
EverBase 3 (Arena Floor) is specially designed to cover ice rinks, allowing them to become true multi-purpose venues for events such as concerts, parties, corporate events, festivals, and other sporting use.
EverBase sections feature an integrated bottom layer that closes off flooring modules and provides additional insulation.  Air is trapped between plastic layers and structural cross ribbing, providing a transition from the colder ice to the warmer ambient room temperature above.
PROTECTS YOUR ICE SURFACE
EverBlock arena flooring is designed to protect your ice, while keeping attendees warm above the ice surface. By containing air in cavities between the top layer and bottom later there is a substantial difference between the temperature of the ice below and the temperature of the top surface of the flooring.
Additionally, the insulation that the flooring provides allows you to save on cooling the floor below (and on heating) the interior of your building. The underside of the flooring is flat, preventing ridges in your ice surface, yet contains small traction nubs to prevent movement of the flooring on the ice surface below.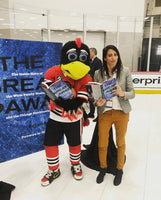 INSTALLING AND STORING and cleaning
INSTALLING EVERBASE AT YOUR ICE ARENA
To install EverBase 3 we recommend dry-cutting your ice prior to installation and maintaining ice temperature at approximately 30 degrees Fahrenheit.
For the first installation, our team will assist in cutting the corner radiuses of your Olympic or Standard sized ice-rink. Our team will come on-site to train your team and supervise the first portable flooring deployment. Once radiuses are cut, a complete ice arena can be installed with 8-10 people in about 2 hours.
Sections are stored compactly on stackable pallets that can be held on or off-site for the next event.
for complete instillation instructions clicks here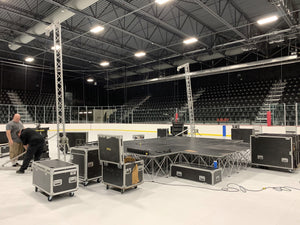 DURABLE, ROBUST AND EASY TO CLEAN AND STOR
EverBase is manufactured using high-impact polypropylene, co-polymer plastic, that contains impact modifiers for improved flex-modulus and long term durability.
EverBlock UK flooring is durable and can withstand the rigours of daily rink use. When sections are connected, the connector clips are protected from damage and keep flooring together under heavy traffic.
EverBlock portable ice rink flooring features a sand-blasted anti-slip surface, which is both easy to clean and provides good traction for visitors. The flooring tiles are chemical, water and weather resistant and is easy to clean using standard cleaning fluids or a pressure washer.
EASY TO INSTALL AND REMOVE
EverBase ice rink flooring transports in 3ft x 4ft panels, allowing for rapid installation by a minimal crew.  It takes 5-6 people about 1-2 hours to install a full sized NHL ice rink (85 x200) of flooring and only slightly longer to install an Olympic Sized Rink (30m x 60m), meaning that your venue can be used for sports one day and a concert the next. 
For efficient installation, simply transport pallets of EverBase into proximity so that panels can then be placed into position where needed.  Sections are merely lifted off pallets, slid on the ice into position, and snapped into place.  Due to EverBlock's unique connector design, sections can be easily nudged by foot into their connection position and then stepped on to connect.   Installers rarely have to bend down to align and connect sections. 
EverBase ice rink flooring modules connect in a matrix, creating a seamless floor that is both attractive and safe for large audiences. You can even leave out sections of the floor to show the ice below, while maintaining the integrity of the surrounding floor. 
To remove sections, simply lift EverBase sections up at a 45% angle, disengaging the panels for transport and further use.